THE SENDERO TEAM
We pride ourselves at Sendero Homes on building a close working relationship with our clients: anticipating their needs, providing timely updates and consultation, keeping a close watch on cost variables and attending to the fine details. To accomplish that we have assembled a team of top-flight professionals with real-world custom home building experience. Each project has one manager who serves as the point-person for every aspect of your new home. We'll enroll you in our Co-Construct tracking program so you can see photos as your home progresses and communicate with your assigned manager. We offer design advice and coordinate the selection phases of the building process to be efficient with your time and ours. And we all are here to help in any way we can.
NAHB BUILDER 20
You'll know us by the company we keep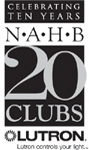 Being a small, independent builder of luxury homes in Austin has its benefits. A diverse population means we work with a wide variety of classic and contemporary house plans. The climate allows for a rich mix of outdoor living and interior design. And since we're not into mass production projects, we're free to explore innovative home building techniques and seek out exceptional quality in materials and comfort features — to the extent our staffing allows.
So, to expand our outreach and add to our range of services, Sendero Homes has joined the National Association of Home Builders' 20 Club program. It's an elite collection of well-respected, award-winning custom home builders like us in other parts of the country. We get together twice each year to compare notes and agree to be available in between sessions to pick each others brains for insight, trends and best practices.
We're proud to be contributors and cohorts of these exemplary contractors. We benefit from their wisdom. Our customers do too.