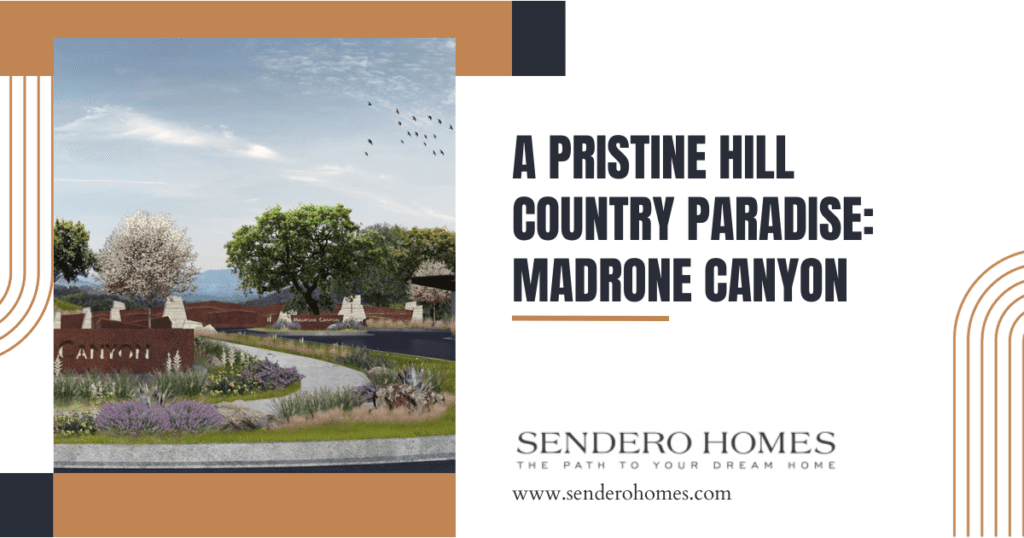 Nestled within the picturesque Texas Hill Country, Madrone Canyon is a breathtaking development project that offers an unmatched living experience. With its pristine canyon setting and thoughtful design, Madrone Canyon has quickly become one of Austin's most sought-after gated communities.
Unparalleled Natural Beauty
Madrone Canyon's prime location in the heart of the Texas Hill Country allows residents to immerse themselves in nature's beauty. Surrounded by rolling hills, lush greenery, and stunning vistas, this development offers a tranquil and serene environment for its residents.
Thoughtful Design and Amenities
The developers of Madrone Canyon have placed a strong emphasis on creating a community that fosters connectivity with nature. Eco-trails, pocket parks, and carefully designed common spaces provide ample opportunities for residents to explore and engage with the outdoors. The development also features top-notch amenities such as a clubhouse, swimming pool, and fitness center, ensuring a luxurious and convenient lifestyle for its residents.
Exquisite Residential Lots
The Madrone Canyon development comprises 140 meticulously planned lots. Each lot has been carefully positioned to maximize privacy and capitalize on the stunning natural surroundings. Whether you're looking for a spacious estate or a cozy retreat, Madrone Canyon offers a variety of lot sizes and architectural styles to suit every taste.
Gated Security
As a gated community, Madrone Canyon provides residents with an added layer of security and exclusivity. The entrance is guarded, offering peace of mind and a sense of community for all residents.
Proximity to Austin
Despite its serene setting, Madrone Canyon is conveniently located just a short drive away from downtown Austin. Residents can enjoy the city's vibrant culture, thriving culinary scene, and world-class entertainment options while still being able to retreat to the tranquility of their canyon-side oasis.
Madrone Canyon in Austin, TX, offers an unparalleled living experience in the heart of the Texas Hill Country. With its breathtaking natural surroundings, thoughtful design, and luxurious amenities, this gated community has become a highly desirable destination for those seeking a harmonious blend of nature and modern living. If you're looking for a serene and exclusive place to call home, Madrone Canyon should be at the top of your list. Contact us today to learn more about this beautiful community.